Report Reveals Cost Of Living In Switzerland's Cantons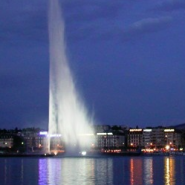 Credit Suisse has recently published its annual cantonal cost of living report in Switzerland. The report usually considers a number of factors in each canton in Switzerland, including its typical household expenses along with tax, housing, commuting, basic health insurance, and childcare.
The report also revealed some of the most expensive cantons to live in, topping the list were Geneva and Basel. High taxes in Geneva along with expensive rent, housing rates, and insurance make it one of the priciest cantons to live in. Basel also had its share followed by other cantons such as Vaud, Neuchatel, and Zurich.
The report by Credit Suisse bank also measured social security payments, health insurance premiums and utility bills. The report found that the cost of living varied enormously depending on where people chose to reside, cantons and local municipalities have the power to set their tax rates and this greatly affected the cost of living.
Two rural cantons in Switzerland topped the list as one of the most affordable to live in. The cantons of Uri and Glarus were found to offer low taxes, low health insurance and most importantly low housing costs.
The Credit Suisse report revealed that the basic health insurance in Uri costs around 30% less than it does in Geneva. It also showed that the canton of Jura has the lowest cost, housing and childcare, but it is burdened with high tax rates.
Meanwhile considering other cantons, Zug had both the lowest tax rates and the lowest health insurance premiums. Nevertheless the report revealed that housing is expensive almost paralleling the cost of housing in cantons like Geneva and Zurich.
Soaring cost of rent and housing adds to the increase in the cost of living in Switzerland's cantons. The ever increasing costs of rent has made a dent in the pockets of many Swiss citizens, for example in 2014 alone the cost of housing consumed up to 10.7% of an average Swiss household income, the report revealed.
In cantons like Jura a typical four-room apartment would cost around CHF 1,200 a typical apartment of the same size and structure would cost more than CHF 3,000 in some neighbourhoods of Zurich and Geneva.
Also affecting the cost of living are taxes, taxes were found to consume 12% of the income in Switzerland. The report revealed that cantons with lower taxes usually attract foreigners.
Since Zug had a low tax rate, a couple with an income of CHF 100,000 would pay CHF 11,000 more in taxes if they moved to a canton like Neuchatel the canton with the highest tax rate.
A 2015 report by UBS bank evaluating the purchasing power of Swiss citizens revealed that residents of cities like Zurich and Geneva had the highest purchasing power. The report indicated that both Zurich and Geneva remain high on the list of the world's most expensive cities.