Practical Information On Swiss Construction Law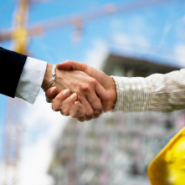 An architecturally remarkable building elicits admiration in the eyes of the beholder. If you have a building project in the works and would like to learn more about the required procedures for permits, licenses and laws you are on the right page. Read on as we take a closer look at important information you need to know before starting your construction project in Switzerland.
Switzerland has recently seen a surge in the number of building projects; according to the Swiss Federal Statistical office around 7740 new apartments were constructed in Switzerland during the first quarter of 2013, the number of apartments in Switzerland with building permits also increased by 20 %.
The Swiss authorities have a final say when it comes to regulatory responsibilities relating to zoning and construction law. In general zoning and building regulations are enacted by the cantons and implemented by the communal building authorities. Switzerland has 26 various cantonal zoning and construction administrations. Since Switzerland is a federal state comprised of 26 cantons, each canton has its own building law. If you are planning to do remarkable changes on an existing building, or would like to start construction on a building project you would need a permit from your canton.
Building Permits
If you are renovating a building or altering a place a permit is generally required before you proceed. The cantonal building legislation has the final say when it comes to permits, they decide whether a building requires a permit or not. If your building project is situated within your communes building zone and you have a few queries or are doubtful on how to proceed, then the communes office building will provide you with all the necessary information and applicable regulations.
Building permits are not required for minor changes especially if the building still adheres to the rules and requirements specified by the canton or local commune. You will also not require a permit for the upkeep of your building, or if you are doing minor adjustments on the building without completely altering its structure or appearance.
Cantonal Requirements
Before proceeding with your construction project your canton will ask for specific requirements prior to issuing a building permit. The requirements will generally ask for detailed information displaying the dimensions of the building using on-site profiles, along with other necessary documents i.e. extract of the title register, detailed maps and plans of the property and photo documentation. In certain instances power of attorney will also be required if the owner of the property is in question.
Planning Application
When a planning application is presented a notice will usually be published in the local paper, the notice contains relevant information on the deadlines and details of any objections. The planning application along with the project's documents are made available publicly during the process, if and when objections arise they can be lodged. Objections can be raised if the construction project infringes on public or private interests that require protection especially on rights of neighbours for example.
Dispute Resolution
When disputes arise from construction project procedures they are either subject to arbitration or relegated to the local courts. In Switzerland state courts do not specialize in project finance or construction disputes. Domestic construction projects are handed over to the local courts especially when a public entity is involved. Nevertheless, the Swiss construction law has established arbitration rules that may be useful when disputes arise; such disputes are referred to specialized arbitral tribunals.
FERZ SA will advise you on construction projects, negotiate and draft your construction contracts and much more, call or email us for more information.